Ok, this is the year that I need to get a handle on these UFO's. I've decided to follow Judy Laquidara's UFO challenge over at
http://www.patchworktimes.com/2011-ufo-challenge/
. The premise is fairly simple..... get out all the UFO's that are stashed in drawers and closets.... You all know the ones, how about that quilt you started for a class...... the disaster gone astray..... the "it didn't look like I wanted it to".... UFOs..
I have one that I'm embarrassed to say goes back to pre-1999. (I can remember that date, because it was Feb 2000 that I shattered my wrist and was laid up for2 months with an external fixator, a cast for another 8 weeks, followed by months of PT, frozen shoulder surgery, and more PT. )
AFter all the UFO's are out of the closet, they each get assigned a number. Then, once a month, Judy pulls a random number from a pouch. That is the UFO that needs to get completed that month! The first number drawn this year in January was #6. February was # 10.
There are over 200 others who are committed to finishing at least 12 UFO's over the remainder of this year.
It's nearly time to draw for March, so I better get my list posted......
#1. The lavendar butterfly quilt for Hannah
.... I started this over 2 years ago. It's for my brother's step daughter. The pink one is now completed for Josi..... so I have to finish the lavendar one before I can give the pink one away..... This needs quilting and binding..... youth size
Finished March 29, 2011
#2. Hexagon challenge Fall embroidery piece...
this project is also 2 years old. I did the embroidery work while sitting with Mom all those evenings two years ago. I decided to border it with tuna can hexies. Now, it just needs quilting, and a way to hang..... very small
FINISHED May 30, 2011!!!!
I even hand quilted this! Yeah... it's done!
#3. Dresden Plate
- This project is one of my older ones.... I purchased the rings for this at an antique store, stitched together, but not appliqued to a background. I got that part done in about 2000. Now, 11 years later, they are still not completely a top. (funny story about the setting).... I was on a roll, but hit a brick wall, when my corners didn't fit right... now I have to devise a plan C. Double size
#4. Friends and Fellows
- This was an internet forum Mystery from the Quilt and Needle.com in 2009. I decided to add applique borders. Done! Now, it awaits backing, pinning, quiltind and some binding. Queen size
#5. Annie's Fortune
- Another Quilt and Needle Mystery from Fall 2010. All it needs is it's outside border. I have the backing. Then quilting and the binding. This is queen sized also
#7. Diamond in the Sky.
Another mystery quilt that needs finishing.... This one needs to be taken apart and have a color change..... I was not happy with the cream fabric I chose... This was started in Dec 2010. It will be king size when complete. 100 x 114" I plan on using this as a back for a duvet cover.
Finished !!! December 25, 2011
The pic at the top, is what it looked like originally.... I had to substitute the ivory for the original leaf fabric, because I didn't have enough.... i didn't like it at all! I remade those specific blocks with some deeper rust.... and got the results in the picture below.... MUCH BETTER!!!1 The deepest outside border will be used to make it large enough to match the other side of the duvet cover.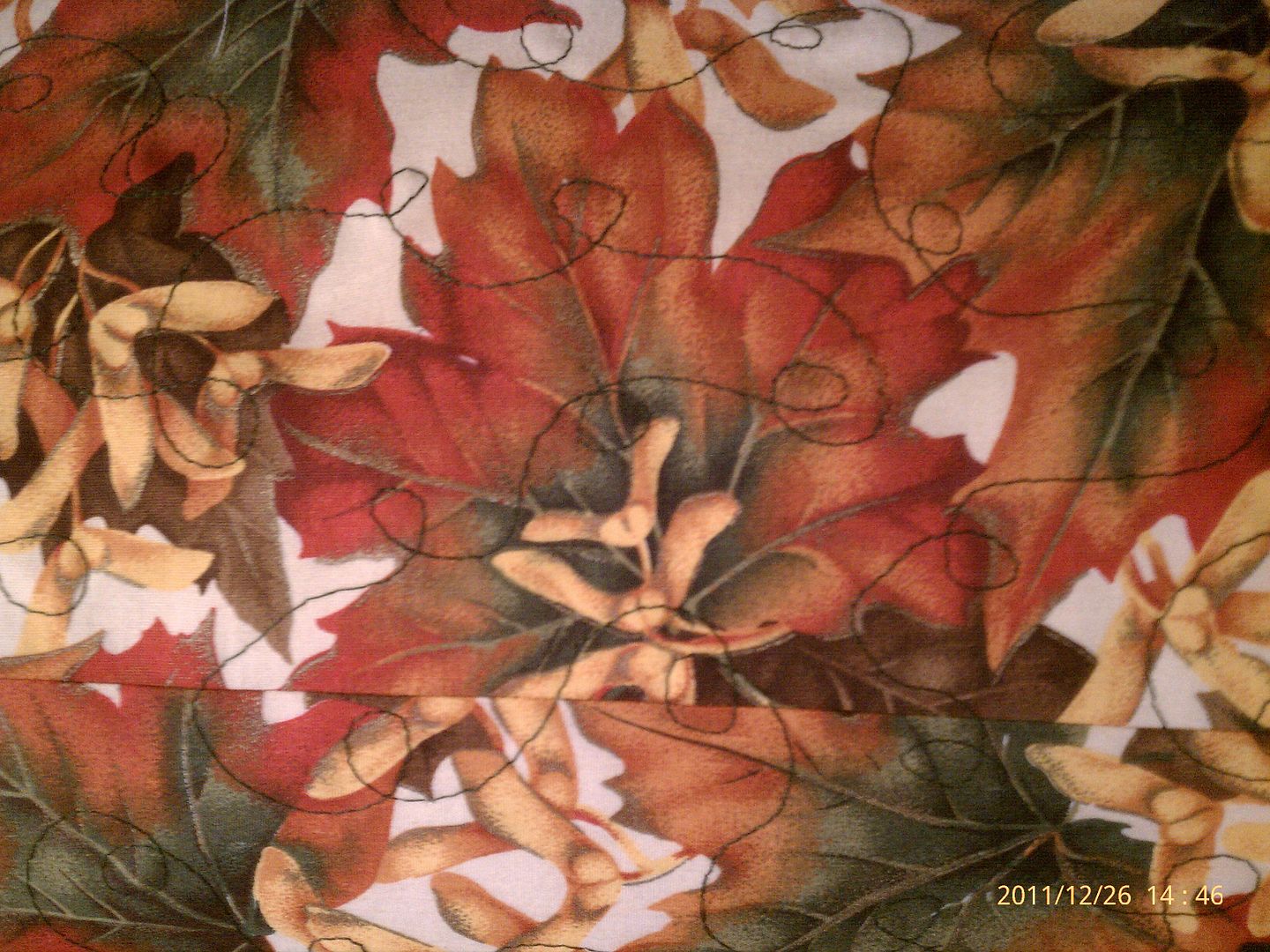 Lots of swirly Free Motion Quilting to hold this down to it's muslin backing.!
This is what it looks like with this side exposed... it's actually the back side of this..... I like them both... it will be hard to decide which side to put up each day....
There are 4 different panel type fabrics... plus 2 other outdoorsy type fabrics in this quilt.... then to marry them all together.. i decided that scrappy flying geese might must do the trick.....
After getting this all together and putting the comforter inside of it as I had originally planned, I couldn't believe how incredibly heavy it is..... had to throw it off the bed half way through the first night.... so... now it's a "Summer Bed cover" with no filling in it at all. Both of the "tops" are quilted to a muslin backing to help protect the seams from raveling... so there are at least 4 layers of fabric. It feels incredible to have this one done! counts as 2 UFOs off my original list.... YEAH!
#8. Phire's Radiance
- another Q&N mystery quilt... (guess I need to hold off on them for awhile, but they are addicting to me... I just can't resist a good mystery quilt! ) This will be a 60x60 wall hanging. All it needs is a final border and then to be quilted.
#9. Churn Dash Bears
.... This will be a throw for our family room when complete. The top is done, I have the backing... it just needs to be pinned and quilted... (the story of my life)... LOL Twin size
#10. Pink butterflies for Josi-
This is a quilt I finished in Feb. 2010. It is the sister quilt to #1. Since I got it quilted and bound, I'm counting it towards my Feb finish.....
Finished Feb. 4 , 2011
#12. Plaid Round Robin 2010
- This little beauty came back to me mid summer. It needs one more plaid border, and then quilting. It will be a lap size when complete.