After more than one setback.... this is DONE! This is a reversible Duvet cover that I made for our king size log bed..... (oops.. don't mind the wastebasket in the background.... I was on my way out to the garbage, when I decided to take pics.... ) This side is made up of 4 different "panel" pieces, all by different manufacturers.... and two other outdoorsy prints... married together with scrappy flying geese. It is HUGE.... 104 x 114".....
This is the back side..... a mystery quilt I started last December over at the Quilt and Needle. I added the extra side border of deep red/rust to bring it to the same size as the panel top.
Originally, I had this..... which I did not like.... I had to substitute the cream fabric for the leaf fabric i ran out of while cutting. I just didn't like the way the cream popped....
so... I decided to make more blocks with a rust instead.... much better...
Now we're on the right track.... I got sidetracked when it came time to add 2 invisible zippers so I could stuff it with the comforter..... and then I needed more of the animal print on the other top.... which I had to find and order on line..... This puppy was so large, that I had to move all my family room furniture out of the way to work on it!
Since my original plan was a duvet cover.... I was concerned with the seams of either top fraying as the comforter moved around inside. My remedy was to use a muslin backing on each of the tops... which I spray basted and stitched together..... I now know I will most likely NEVER quilt a king size with a batting inside on my domestic home machine..... I love my Janome... but even the two layers of fabric w/o batting were difficult to maneuver around. The spray basting saved my bacon... I'm sure that pins alone would have been a nightmare.... So... all together there are 4 layers of fabric in the cover alone....
When I turned it right side out, and put the comforter that has been on our bed inside, it was incredibly heavy! I had originally thought that I would use the comforter during the winter months, and then use it as a "summer topper" w/o the comforter during warm weather... but as of half way through the night last night, it will be a summer topper all year through.... I have removed the comforter today. It was so heavy, I couldn't roll over under it....
This is a picture of the leaf side showing on the bed... it is so pretty! I'm going to have a hard time deciding which side to have up every day....
Here are some other close-ups... one of the quilting... I used up 5 spools of that green thread I posted about a couple of weeks ago.....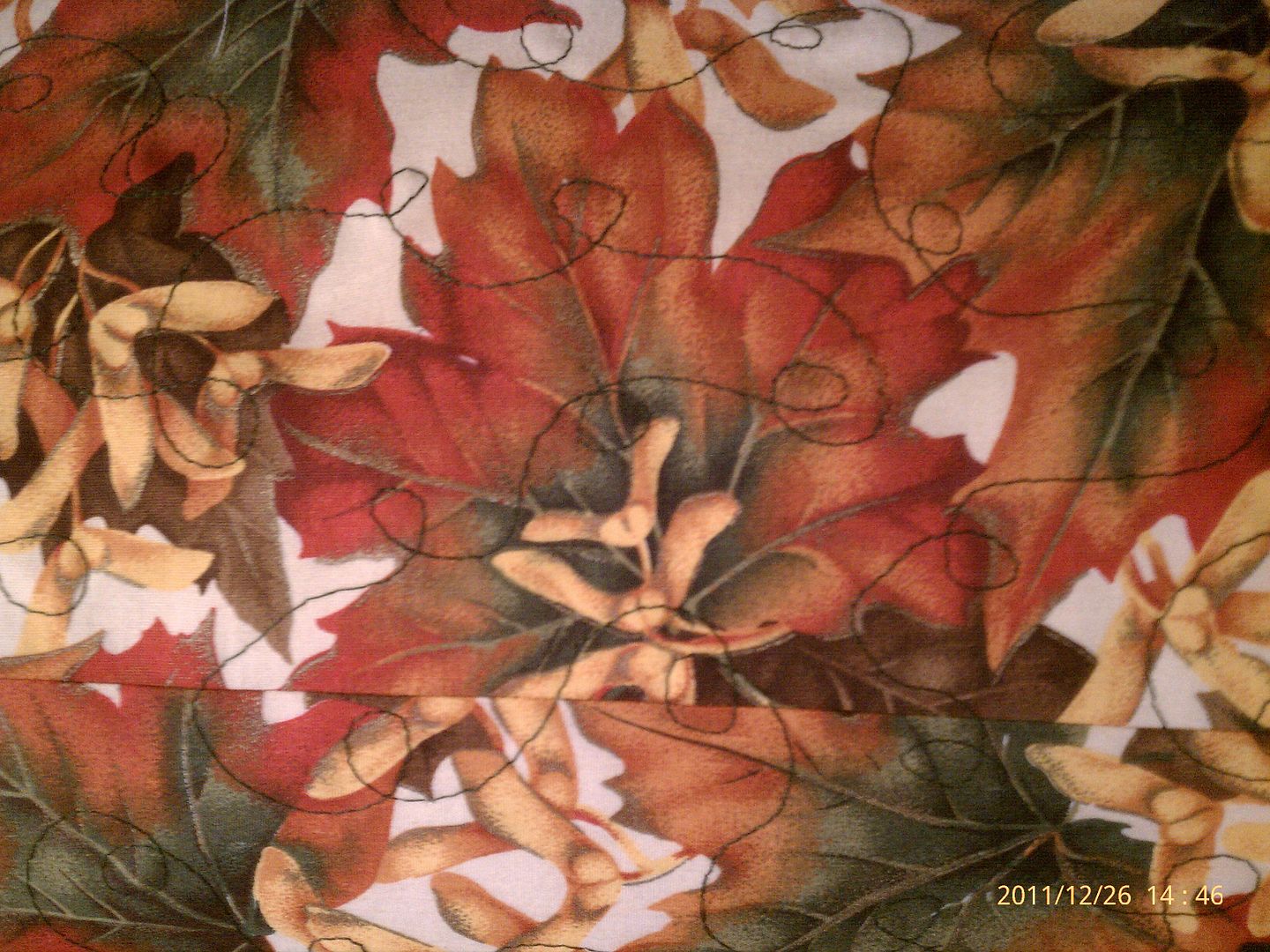 Center of the top...
See the picture above the bed? Matches pretty good, eh?

Boy, it feels good to get this one out of the UFO pile...... anyone need my old king size comforter? LOL